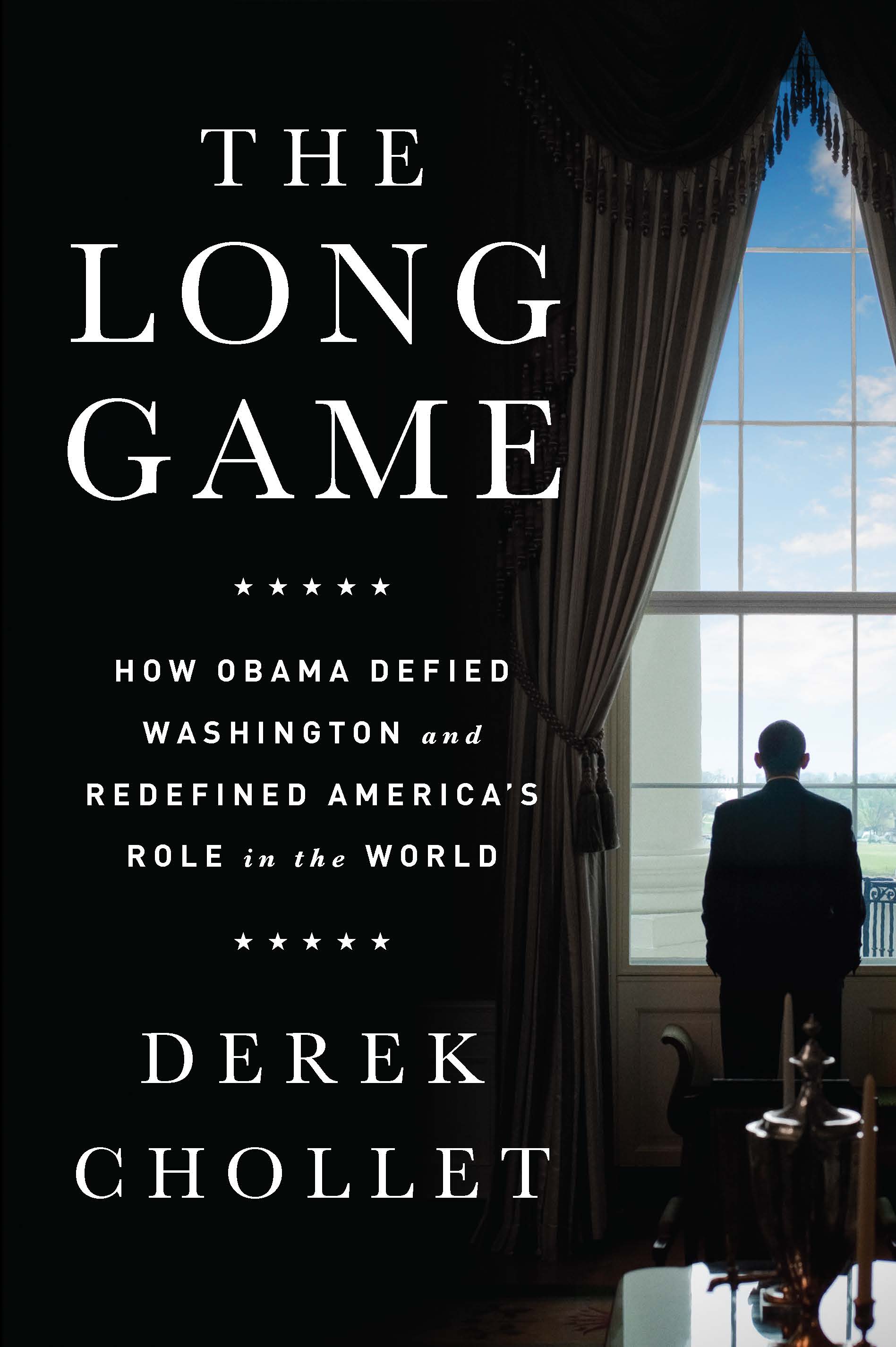 Título:
The Long Game [electronic resource] : How Obama Defied Washington and Redefined America's Role in the World
Descripción:
Authoritative and original, -- The Long Game boldly sums up the core tenets and names Obama's highly successful doctrine: to position the US to win "the long game."
Formato digital:
CLOUDLIBRARY PDF
Resumen
In this inside assessment of Barack Obama's foreign policy legacy, Derek Chollet tackles the prevailing consensus to argue that Obama has profoundly altered the course of American foreign policy for the better and positioned the United States to lead in the future.

The Long Game combines a deep sense of history with new details and compelling insights into how the Obama Administration approached the most difficult global challenges. With the unique perspective of having served at the three national security power centers during the Obama years -- the White House, State Department, and Pentagon -- Chollet takes readers behind the scenes of the intense struggles over the most consequential issues: the wars in Iraq and Afghanistan, the meltdown of Syria and rise of ISIS, the Ukraine crisis and a belligerent Russia, the conflict in Libya, the tangle with Iran, the turbulent relationship with Israel, and the rise of new powers like China.

An unflinching, fast-paced account of U.S. foreign policy, The Long Game reveals how Obama has defied the Washington establishment to redefine America's role in the world, offering important lessons for the next president.
Reseña de Publisher's Weekly
Chollet (coauthor of America Between the Wars), a "card-carrying member" of "Washington's foreign policy establishment" and former Obama Administration staffer, sets out a lucid but not wholly persuasive case for the president's foreign policy. Identifying a paradox where right-wing critics see Obama as weak and left-wing critics see him as overbearing, Chollet contextualizes the foreign affairs environment that the president inherited, describes his early diplomatic actions, takes the reader through a series of recent international incidents (Syria's use of chemical weapons, Russia's invasion of Ukraine, Iran's nuclear program, the rise of ISIS), and makes a checklist of qualities of Obama's "long game," including precision, restraint, and balance. Chollet only intermittently describes his own experiences, primarily taking an analytical approach. To supplement his memory and support his case, he pulls from the memoirs and speeches of Obama and his cabinet (most notably Secretary of State Hillary Clinton and Secretary of Defense Robert Gates) and analysis from recent articles in the popular press. Chollet provides cursory admissions of mistakes and alternative approaches but never thoroughly engages with criticisms or examines controversial aspects of Obama's approach, such as the increased reliance on drone strikes. The conclusions feel like a predetermined defense of Obama against his critics. (July) © Copyright PWxyz, LLC. All rights reserved.
Kirkus Review
A measured insider's account of President Barack Obama's foreign policy, arguing that the very aspects that bring conservative derision represent subtle, long-term strengths.Chollet (co-author: The Unquiet American: Richard Holbrooke in the World, 2011, etc.), who served Obama for six years in positions including assistant secretary of defense for International Security Affairs, relies on his heavyweight credentials and personal perspective in a spirited, thoughtful defense of how Obama responded to both George W. Bush's missteps and the spiraling chaos that has greeted his own goals. He argues that the cool, cerebral Obama has pursued an oft-misunderstood "long game," relying on long-term planning that has minimized the risks of Iraq-style quagmires. "Obama is like a foreign policy version of Warren Buffett," writes the author, "a profoundly pragmatic value investor." Like a tycoon's discreet adviser, Chollet positions himself as a defender of Obama's ambitions, portrayed as feckless by those for whom "the answer is almost always for the US to do more of something and to act tough.' " Aptly, the author begins with the "red line" crisis presented by Syria's chemical weapons; Obama was called weak for a restraint that led to the repressive regime relinquishing those munitions. Chollet then looks backward, arguing that Democrats felt a mandate in 2008 to remake foreign policy in line with Obama's broader advocacy of change: "The ascendance of the Bush/Cheney foreign policy was a key impetus behind Obama's rise." Yet despite Obama's mandate to take a leaner approach to fighting terrorism while resolving conflicts in the Middle East, cascading crises in Libya and Egypt and the rise of the Islamic State group seemingly point out the limitations of Obama's long-distance planning. As Chollet avers, "for Obama, the greatest threat that ISIS poses is that in responding to it, we lose sight of the Long Game." With respect to Vladimir Putin's aggressive Russia, the author notes, "Obama's alleged weakness' did not drive Putin's aggression." A cogent, detailed policy review, effectively studded with first-person recollections, that probably won't sway Obama's conservative critics. Copyright Kirkus Reviews, used with permission.
Library Journal Review
The titular "long game" refers to President Barack Obama's foreign policy, one based on prudently and strategically taking into account eight criteria (balance, sustainability, restraint, precision, patience, fallibility, skepticism, and exceptionalism) in order to make thoughtful relationship-repairing decisions for the United States in the world political arena. Who better to comprehend fully the president's tactics than Chollet (The Road to the Dayton Accords: A Study of American Statecraft), who has held high-level positions in Obama's administration, including jobs at the White House, the U.S. State Department, and the Pentagon. While many criticize Obama's foreign policy as being weak, Chollet argues that the long game is about using America's power and tools "to bring countries together to shape outcomes, set agendas, and address these problems in a sustainable way." In a world of sound bites, one of the greatest challenges has been about overcoming snap judgments and ongoing combativeness from conservative opponents and insisting on adhering to the content within the long game policy tenets. -VERDICT Chollett's relevant, extensive history of how foreign policy decisions have been handled both by President Obama and his predecessors in political hotspots around the globe will garner wide -appeal.-Krista Bush, Shelton, CT © Copyright 2016. Library Journals LLC, a wholly owned subsidiary of Media Source, Inc. No redistribution permitted.
The Long Game [electronic resource] : How Obama Defied Washington and Redefined America's Role in the World
Los siguientes ítems fueron añadidos.
Se produjo un error al añadir los siguientes ítems. Inténtelo de nuevo.
No se pudieron añadir uno o más ítems debido a que usted no ha iniciado sesión.